Products » Building Trades & Industrial
Hydrophilic Sponges for Trade & Industrial
We have a large range of synthetic sponge forms which we call our Hydrophilic Sponge range, otherwise known as the 'Hydro Sponge' range.
The Hydro Sponge material is manufactured and imported from Europe, then cut and formed in our Sydney factory to produce our Hydro Sponge range in finished forms.
Our Hydro Sponge forms are well known for their superb water holding capacity and their long effective life. Hydro Sponges remain soft and pliable, do not harden, can be used on most surfaces and are excellent for building and general purpose trades.
Building Trades
» Tiling – Perfect for removal of grout and general cleaning of tiled surfaces
» Painting- Used to clean walls before and after general painting
» Cement Rendering – Assists in producing smooth cement finishes on walls
» Cleaning – Excellent as a general cleaning tool on any job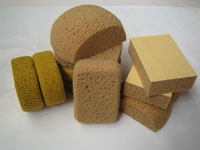 General Purpose Applications
» General Cleaning – Industrial and Household
» Detailing and Cleaning – Cars, Boats, and other vehicles
» Home Use- General DIY and household applications
» Wallpaper – Excellent for smoothing and applying wallpaper

Custom Cuts/ Forms
Although our standard forms are suitable for most jobs and applications we can also provide a custom cutting service for customers who would prefer alternative sizes an/or forms using our Hydro Sponge material.
See our Gallery for a selection of images from our range of synthetic sponge forms for building trades and industrial.