Products » Decorative & Craft
Natural Sea Sponges for Decorative and Craft
We have a variety of Sponges available for use in decorative, art and craft applications.

Our decorative craft range includes a variety of natural sponges including Wools, Silks and Elephant Ears, as well as synthetic hydrophilic forms.
Our decorative craft range of sponges produce excellent results and are ideal for a variety of applications including the following.
» Excellent for painting, faux finishing, and sponge effects
» Suitable for use with water colours, fabric paints, acrylics and oils
» Excellent for producing paint effects on canvas and other surfaces
» Used by makers of pottery and ceramics to smooth and moisten surfaces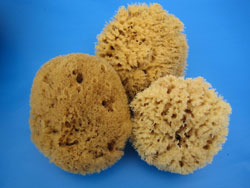 Our decorative craft products are suitable for use by both professional and hobby artists.
Natural Sponges are soft and pliable and have long been favoured by artists as they have individuality in their texture which allows you to create random and unique patterns on a variety of surfaces.
Visit our Gallery for a selection of images from our range of sea sponges for decorative and craft applications.