Products » Cosmetic Facial
Cosmetic Facial Applications
We have a selection of Fine and Silk Sea sponges available for facial and cosmetic applications.
The natural sponge when moistened glides smoothly and softly over the face, allowing for an even application of facial products and very effective facial cleansing.
The natural sea sponge is ideal as an applicator / cleanser for a variety of facial applications
» Cleansing and exfoliating to rejuvenate and soften the skin
» Massaging to stimulate skin cells and blood circulation
» Ideal for application and removal of cosmetics
» Excellent for application of facial treatments and moisturiser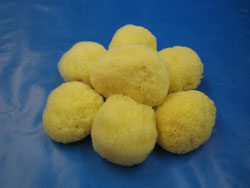 Natural sea sponges are a beauty enriching product which makes routine facial cleansing and other facial treatments a far more satisfying experience.
Visit our Gallery for a selction of images from our large range of sea sponges for facial and cosmetic applications.